Video editing is one of the most fun and exciting experiences around, especially if you're passionate about taking videos and adding further glory to them.
Video editing allows you to make certain changes in your video like the different filters. It also allows you to put out some effects inside like the slow motion, fast forward, voice change, etc.
You can also crop out a certain part of the video that you do not like. It is as simple and as easy as that.
Today's article is all about the Top 10 Best Video Editing Apps For Android.
Best Video Editing Apps for Android to Edit Like a Pro
We are going to discuss the 10 Best Video Editing Apps to edit your videos professionally like a pro on android devices.
We have discussed the apps, pros and cons of each app. So, read the article till the end and enjoy it.
1- INSHOT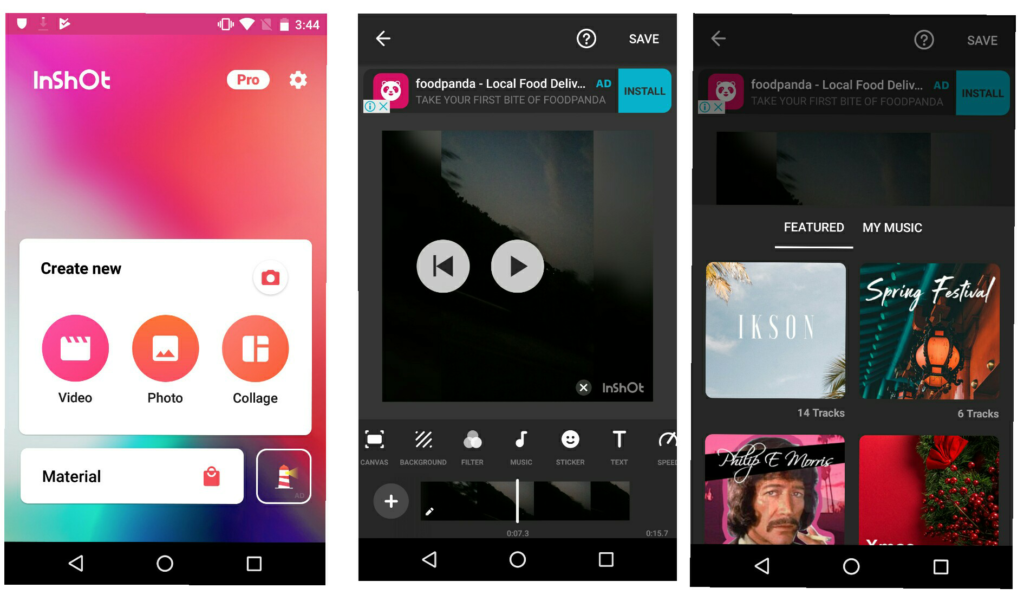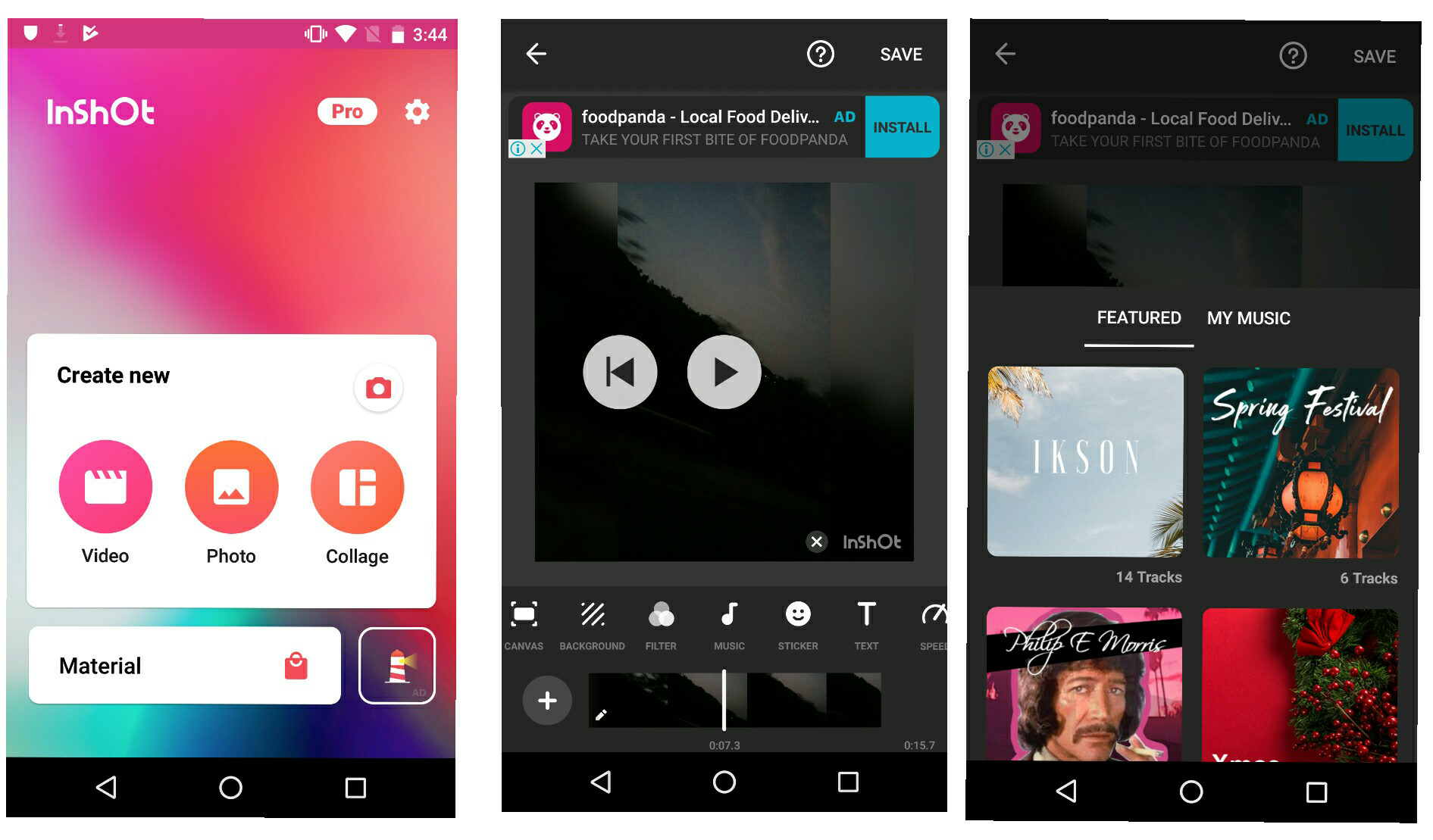 Worried about keeping way too many apps for video editing in your phone?
Ever had a difficulty posting half pictures to your Instagram?
Well, fret not. With a shot in your hands, you are at more comfort than you can imagine.
This is one of the best Video Editing Apps For Android, which will blow your mind. Inshot adds beautiful backgrounds to your video, lets you crop, edit, and even add effects to them.
You can also add different types of media to your video files and bring more life to them either with the built-in music player or directly from the library.
To cut it all short, Inshot does all the basic video editing work for you which you may be needed daily.
The best part about in shot is the fact that you can remove the Inshot watermark from your videos.
Pros:
Perfect for everyday use
Allows you to perfectly edit your Instagram videos
Turn your videos to life with the live stickers
Cons:
Good for only daily video editing
2- ADOBE PREMIERE CLIP: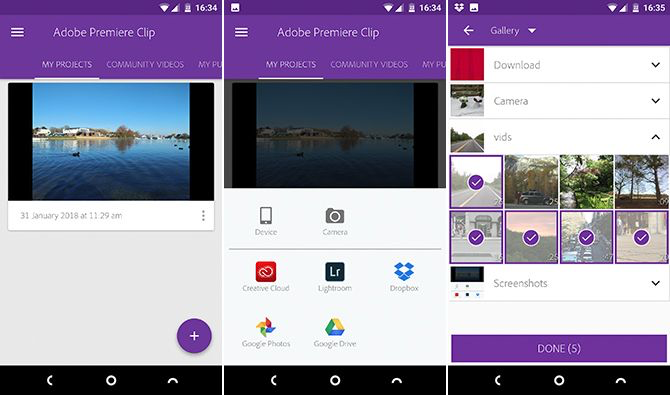 Adobe premium is one of the free apps by Adobe, which makes it no less than one of the apps for Android.
This app is simple, bold, and straight. Just like other apps, you can edit your videos efficiently with the basic tools, all you have to do is tap, and an array of options appear up the screen.
However, what is different about the adobe premiere clip is the fact that you can actually save your video to Adobe Creative Cloud and access it from any of your devices.
This is amazing if you're a person who uses multiple devices.
Pros:
Extremely easy to use for people of any age
One of the free apps by Adobe
Includes brilliant ideas
Cons:
It has got limited options
3- FILMORAGO:


Need a video editing app to give you all professional tools in a simple nutshell?
What more could you ask for your video editing other than the Filmora Go?
Filmora Go is an amazing video editing app which speaks for itself.
Its amazing and simple layout design is the first thing that impresses the eye as you open it.
It is packed with amazing themes, video effects, texts, editing tools like trimming or splitting, etc and many other options which will add beauty to your videos in a professional way.
It also is one of the Top 10 Best Video Editing Apps For Android, which does not add a watermark to your videos, which makes it a perfect choice to have.
You can easily mix photos and videos with this app and make a real-time movie as well.
Pros:
This app is available in multiple languages
You get many options to choose from
Best beautiful framing options
Cons:
It does not support many music formats.
4- QUIK:
This incredible video editing software by GoPro could be your next best friend when it comes to video editing.
Trust us, when we tell you QUIK is amazing, it is. Grab images from the video you captured or easily select them from your device.
Saving a video will not take up most of your time, which is a plus point. You can also share videos very easily with QUIK.
It also provides telemetric data to your apps like speed, distance, altitude, elevation, G-force, and GPS.
QUIK contains all the basic tools for video editing with amazing themes and effects that will make you say WOW.
Pros:
Video sharing was never so easy before
It has the slow-motion effect which most video editors lack
You can also add watermarks besides texts to your images.
Cons:
The layout could be much easier to use in our opinion
5- Power Director VIDEO EDITING APP:
The Power Director is one amazing, easy to use, intuitive, and a speedy app which is good for basic or normal video editing.
As compared to its other competitors in the market, this video editing app has quite a lot of catching up to do.
This app is extremely useful for people who want to quickly edit something to save up some extra time.
It is so easy to use that people of all ages can easily use it and make magic happen with their own hands.
Edit video, add filters to them, cut them or trim them, frame them or add sound effects to them, all and everything in the palm of your hand.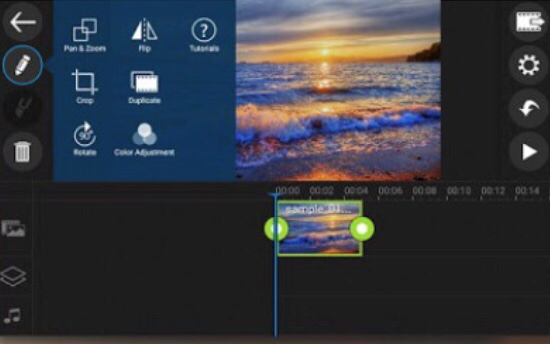 Pros:
Easy to use interface
Amazingly quick at taking actions
Cons:
It can perfectly edit 360-degree videos
This video editing app has got less on the plate as compared to the rest of its competitors.
6- VIDEO SHOW: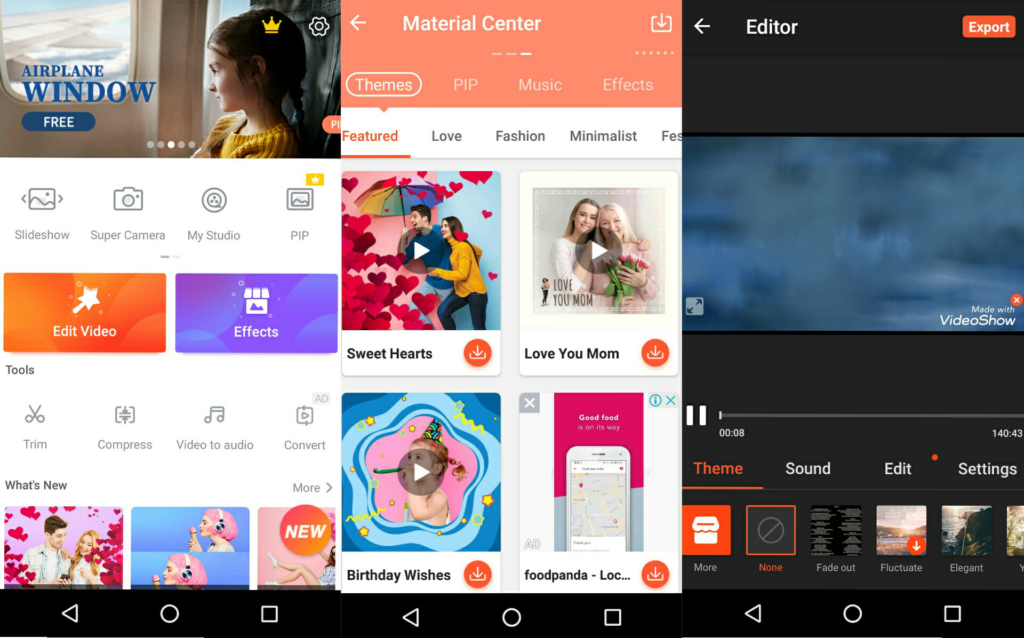 Video show video editor is one of the few Top 10 Best Video Editing Apps For Android, which was ranked as No one video editing and making an app in many countries.
Amazing huh? We think that too. So what has this video editing and making app got in store for us?
For starters, it has more than what you need for that perfect video editing style. This app has an incredibly easy and intuitive user-friendly design.
The input you give in is worth the output you get since the options are many and you get many options to choose from.
You can do whatever it is that you like while you edit your video and this app has got it all in store for you.
Pros:
Easy to grasp design
You can use all types of sound effects, transitions, recordings, songs, etc.
Versatility is one word you can describe this app in
Extremely reliable
The premium version of this app can be an amazing video editing pack anyone can have.
Cons:
Ads can be a problem if you're not gone premium.
7- MOVIE MAKER FILMMAKER: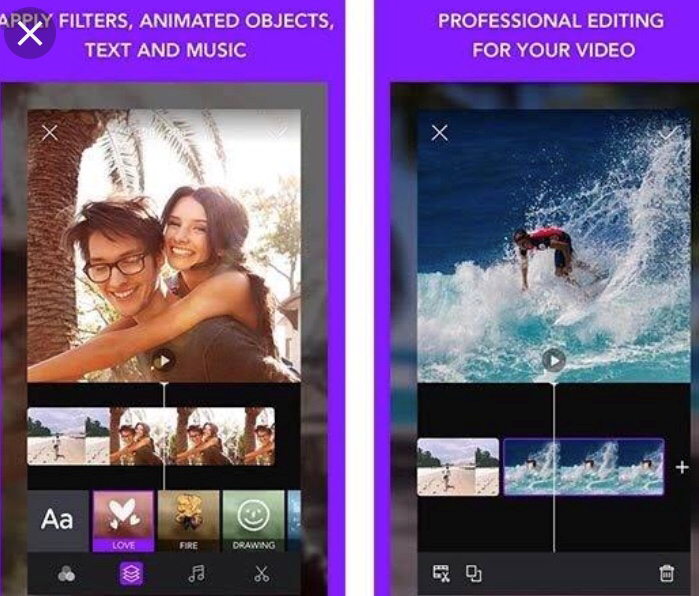 Even though video editing is one tough and heavy job to perform and we all can agree on that. The movie maker filmmaker is one of those apps which turns this heavy work into something light.
Whether it is trimming, editing your video, recording them or having to crop them out, let this app do its magic on your videos. You can even design your very own custom filters.
Apart from that, this app won't take up most of the battery power on your android. It also gets things done pretty fast, and the sharing option is also really cool.
Pros:
Beautiful layout
Light power consuming app
Allows you to have your custom filters over your videos
One of the best apps for android
Cons:
This app needs to cope up with bug issues.
8- VIVA VIDEO: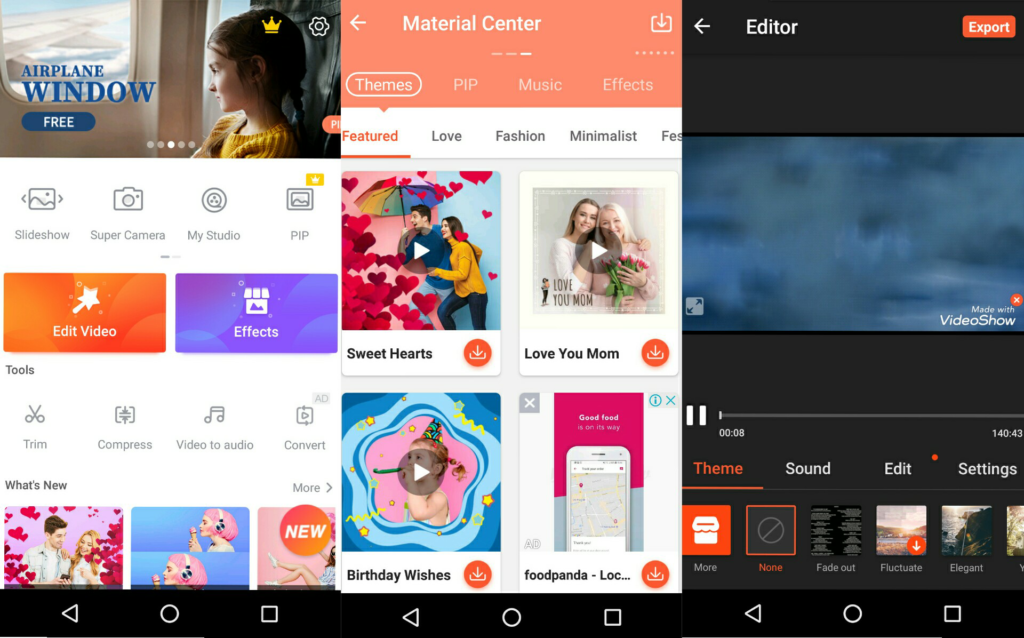 Viva video is one of the most famous and the most used video editing apps of all time. No doubt it does wonder when it comes to video editing on Android, even though we feel like it takes quite more time processing as its many other competitors.
It can be called a video editor which can be used for professional use over Android, and many video editing professionals tend to use it.
It contains all the basic stuff like adding sounds effects or sounds, adding texts, filters, video effects, frames, etc to your videos, you can also crop or trim them.
Things are done, but in a very professional way. All these professional video editing tools will make sure your video speaks to the world what you want it to.
Pros:
Perfect for professionals who want to edit videos over android
Gives you much versatility in one platform
Cons:
Can be tricky to use for beginners.
9- KINE MASTER:
Need a video editing app which makes sharing and editing easy so it can be reported to the world out there within a matter of seconds?
Kinemaster has got your thumb. This app does exactly what it has been made to do. Kinemaster will share all your videos in the blink of an eye to all your desired media platforms.
This app has all the basic features at hand for you, which makes it easy to use. However, its premium version is packed with a lot more fun because of the versatility in features. Audio effects are not available on this one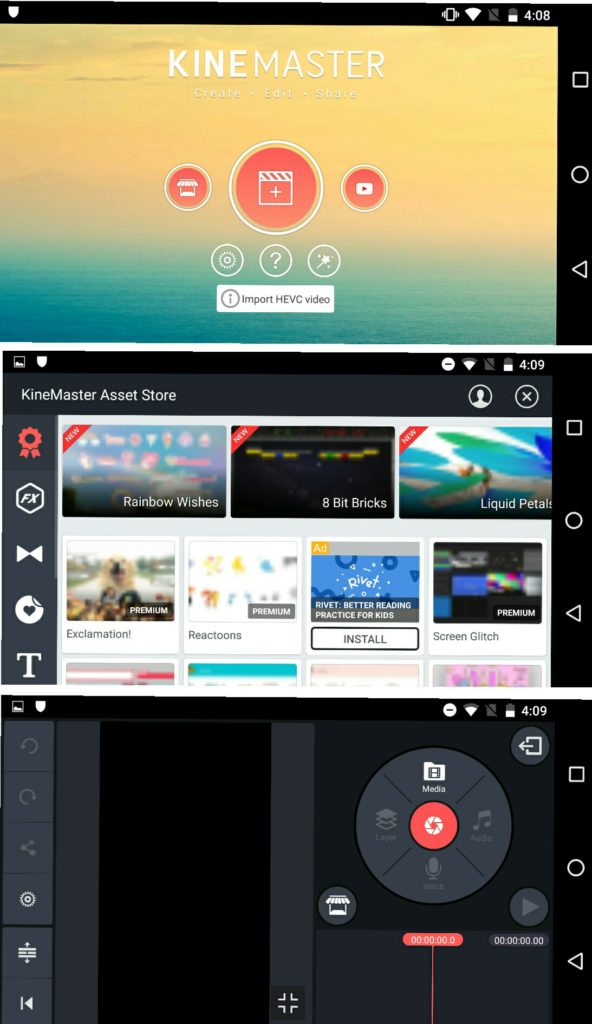 Pros:
Perfect for bloggers/ vloggers
Easy to use
Speedy and instant sharing
Cons:
Watermark removal feature is not available on this video editor.
10- MAGISTO VIDEO EDITOR: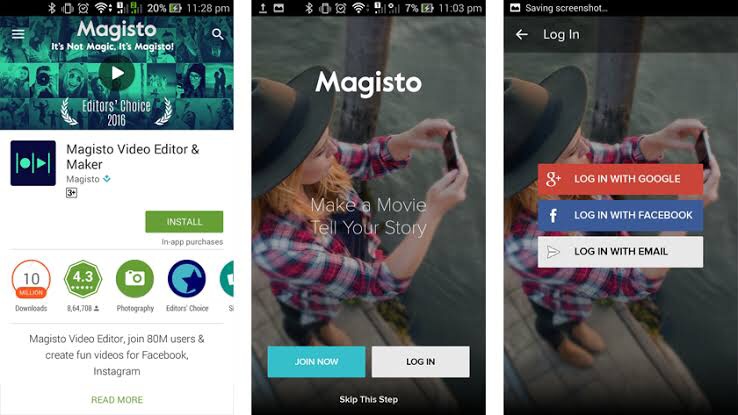 Magisto video editor has provided its video editing services for both marketings as well as many business professionals for nearly a decade now.
Besides all the basic video editing features, Magisto is known for its vast music library with millions of songs present in it. The analytics and insights feature is something which makes it so attractive for many marketers out there.
Marketers can easily build their professional-grade marketing collateral in the highest video resolution, i.e. 1080p.
Even though magisto is an amazing application. It is best used when in the package. It comes with three different packages, basic premium, and a free seven-day trial.
Pros:
Very versatile in its options
You can select from a broad variety of options
Easy to use
Perfect for professional use
Cons:
It is best used when subscribed.
Final Verdict
All right, folks! This was a wrap. We hope that you find this article on the Best Video Editing Apps For Android helpful and found it equally informative. Video editing is a job that involves much hard work, especially for professionals. Others need an easy way out. The whole procedure of the editing depends from person to person, which is why we had a variety of apps for you. So everyone can choose their app from the list.
If you have any questions, feel free to ask us in the comments below. Also, tell us what video editing app do you use?
Until next time, off we go.
Adios!
Looking for a Professional Video for your business, app, service or pretty much anything? Check out video services here.
If you're looking for an explainer video, motion graphics or animation videos, contact us here.
Check out these articles as well.
Top 10 Free After Effects Intro Templates of 2019
15 Best Free After Effects Slideshow Templates of 2019
10 Online Marketing Strategies Your Business Needs in 2019
15 Small Business Ideas to Kickstart your Business in 2019